Non-Medical Home Health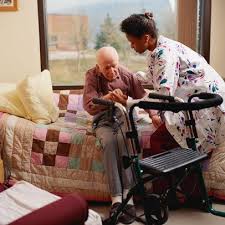 Non-medical home health agencies provide elder care services to seniors who wish to stay in their homes instead of going to an assisted living facility or a nursing home. The typical agency provides unlicensed caregivers, Certified Nurse Aides or Sitters who come to your home at your convenience and help you with what is commonly called, activities of daily living.
These are activities that you were easily able to perform and probably took for granted some years ago but are now increasingly becoming more difficult to achieve. Some examples are: bathing, dressing, doing your laundry, cleaning the house, driving to the store, dialing the telephone or preparing a meal. These are only a few examples of what the caregiver can do for you to help you get through the day. I will give you a long list of services that most non-medical home health agencies provide a bit later.
Non-medical home health agencies have proliferated throughout the country because of the nature of the service. This means that it doesn't take a licensed nurse to perform the duties they provide, therefore, the workers are easier to hire and will work for less. So, anyone with some good business sense can start this type of non-medical home health agency and do well. Many of these businesses are started by a nurse aide that was employed by a nursing home or another home health agency. She became quite good at her work and her patients and supervisors told her so. She saw that others like her were getting into the business and doing well so she decided that it would be more profitable for her to venture out on her own and start her own home health agency.
Since these are non-medical home health agencies, they can provide their services without a state license in most states. Every state has its own criteria for licensing home health agencies. Most however, will require a license if the agency staff will be providing hands-on care to the patient such as bathing, toileting and feeding. If the staff is merely assisting you with housekeeping chores, most states do not require the agency to be licensed.
Many non-medical home health agencies seek licensure for the distinction that it brings and the ability to offer a broader range of services they can provide. Being licensed by the state means that the agency has met the licensing requirements and standards set by that particular state. It is a status of which an agency can be proud to display.
If you have a long term care insurance policy, it may provide coverage for non-medical home health services but only if provided by a licensed agency. You need to check with your insurance company to see if it covers non-medical licensed care.
Some of these agencies have remained as small, local, home town businesses, providing services to the town and surrounding area. Other agencies have expanded their service area to reach large parts of the county. Some have opened satellite offices in other parts of the state or other states. Then other agencies have gone on to franchise their business and have their name in many states.
Whether you go with a local small "mom and pop" type of agency or go with the larger better known agency, you still need to do your homework, which is what I'm going to help you with through this website.
First, you need to take stock of what your needs are on a daily or weekly basis. To help you determine what you might need, I suggest that you print out the list that follows and check off the tasks with which you need help. The following is an example of the tasks that a helper can do for you and that most non-medical home health agencies provide. You may have other needs that I did not include. If so, add them to the list. I suggest that you print this list and check off the tasks that you need help with and leave the list for later. As the day progresses you may find other tasks with which you need help. After a couple of days, you should have a complete list.
Examples of Non-Medical Home Health Services
Incontinent care

Remind you to take Medication

Help with ambulation

Alzheimer's care

Companionship

Light housekeeping

Run errands

Drive you to appointments

Meal preparation

Grooming

Dressing

Assistance with eating

Laundry

Ironing


Assistance with bathing

Aid with reading

Dial the telephone

Remind for appointments

Wash dishes

Take out garbage

Feed pets

Assist with mail

Help with grocery list

Assist with TV channels

Read to you

Provide stimulating activities

Answer door & telephone

Escort you to events, appointments, shopping, travel, restaurants, visit friends & family, religious services

Questions to Ask a Home Health Agency
1. Are you licensed by the State? An agency has to be licensed only if its workers provide hands on care to patients such as bathing and incontinent care. Agencies that provide home management services only do not have to be licensed in some states.
2. Are your employees bonded and insured? Can you show me a copy of the certificates?
3. How long have you been in business?
4. Who is the company manager/administrator? You want to know who to call if there are problems with the service.
5. What are your rates? Do you have a minimum fee? Do your rates vary according to the tasks requested or is it a set fee per hour? Will I be expected to pay daily, on weekly basis? Is there an admission set up or sign up fee?
6. What is your policy on tipping the aide? This is many times discouraged by agencies. The aide is paid to do a job for a certain wage. No more should be expected. However, if the aide has been a good and faithful servant to you, a Thanksgiving or Christmas gift or bonus that you can afford would be a nice gesture of appreciation. Check with the agency for their policy.
7. Can you provide me with local references that I may call? People who have used the agency and can say good things about it are a good resource for you. Ask for several, not just one.
8. When can you start services? Do you have backups for the aide in case she can't make it on an appointed day?
9. Do you do background and criminal history checks on your employees?
You should ask all of the above questions of each home health agency you are considering. Be particularly conscious of the way your questions are being answered. Is the person talking to you in a friendly, interested, and patient voice? Are they being forthright in answering your questions or are they being evasive? How do you feel about the answers you received?
The next question is for your State Regulatory Agency. Call your state agency and ask about the non-medical home health agency you are considering hiring. They will be able to give you information regarding the agency's license, their last inspection and results, any complaints received about the agency and if there have been any sanctions against the agency. Most states will provide that information under the Freedom of Information Act. Some may direct you to an internet site. They would rather you do the work since it's online and not have to pay someone to look it up for you.

You're Ready to Decide
I know that this seems like a lot of work for you and it can be, particularly if you're already stressed with caregiving. By taking the time to research each agency, you are assuring yourself, as much as possible, that you've made a good decision instead of taking a chance on the first agency you call.
My experience of working with non-medical agencies and nurse aides has shown me that most are sincerely trying to provide an excellent service to you and your loved one. The work they perform is a work of love and it's not always easy.
No matter how careful you might be in screening the agency and its workers, sometimes, problems arise between patients and the worker. It is important to try to correct the problem as soon as possible. You owe it to yourself, the aide and the agency to let them know that you are dissatisfied with the service and why. This gives the aide and the agency the opportunity to correct the problem and resume the service to its level of quality that you expect.
I discuss how complaints should be lodged and with whom in the complaints link. If you feel that you or your loved one may require more skilled care, go to the Home Health page for more options.
Now, if you feel that you are ready to make that call, click or go to your yellow pages and look under "Home Health Care". Good luck!