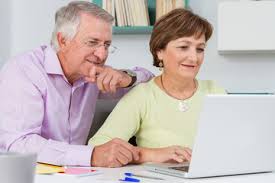 Elder Care Options
I created "Guide to Elder Care" to help individuals like you navigate the maze that is health care and particularly, long term care. It is my hope that this guide becomes a comprehensive reference for you to use in your search for the right type of service for you. The satisfaction of knowing that I helped someone in need is what has motivated me to start this website. With this guide, I can help more than one family at a time.

You may ask, "What type of elder care service do I need for our situation?"
I wish I had a dollar for every time I was asked that question.
We are fortunate to have a variety of options when it comes to long term care services and each type usually has many companies offering that particular service. A search through google or the Yellow Pages can make you feel overwhelmed and wondering how and where to start.
In this website, I will be discussing the different types of service options you have. Each button on the navigation bar will take you progressively through your options for selecting the kind of care you are looking for, whether government sponsored with no or little out of pocket expense for you or private pay facilities.
Elder Care Services
The Hired Caregiver    Nursing Homes    Sitters                Hospice  
Home Health Care       Assisted Living    Adult Day Care   Long Term Care Insurance 

Important Decisions
You know your loved one's health status, your financial resources and limitations and what you need as a caregiver better than anyone. Take your time reading the information I have compiled here for you. You are about to make a very important decision but through the help you'll find here, that decision will be much easier to make.  
You will be able to navigate to each type of service by clicking on the navigation bar on the left side of the website or click on the links below.
The information I have compiled for you is written as if we were seated in your living room having a comfortable discussion.
Now, let's get started!
Please click on one of the buttons on the navigation bar on the left side of this page or on the links below. They will take you to a frank and easy to understand discussion of each of the services available to you.
See you there!